Published February 20, 2020
3 Ways Automation Helps A Data Protection Strategy
On a daily basis, do you choose manual processes or automation? Most IT leaders are looking to automation for new ways to better serve customers, speed product innovation and deliver more revenue results for their organization.
Automation and today's organization was discussed in the recent DM Radio podcast "Automation: The Key to Success for the Modern Business." I had the opportunity to bring data protection into the conversation with several leaders from the IT industry:
Ritesh Jain, COO and Global Head of Digital Technology Delivery, HSBC
Nir Livneh, CEO and Founder, Equalum
Diego Lomanto, VP of Product Marketing, UI Path
Host, Eric Kavanagh CEO, The Bloor Group

How does automation fit in a data protection strategy?
Throughout the podcast, we covered a range of topics of interest to IT leaders. With customer examples and industry research, I shared three ways that automation fits into your data protection strategy.
1. Automation speeds cloud disaster recovery
Organizations run on data, but what happens when that data isn't available? The new year rang in with unprecedented natural disasters with the Australian wildfires, floods in Brazil and winter tornadoes in the U.S. We hear about a new ransomware attack about every week.
Disaster recovery – and cloud-based disaster recovery – are more important than ever. With these emergencies, time is critical, so automation is a necessity.
What if you could automate disaster recovery? What if you could use just a SMS voice command to kick off disaster recovery from Azure?
Thousands saw automated disaster recovery in a Commvault demo during the keynote of a recent customer event. Commvault simulated an incident like the California power outages that happened during the wildfire crisis there. With this demo scenario, a SMS voice command called the Commvault platform to spin up a disaster recovery instance in an Azure cloud region on the other side of the country.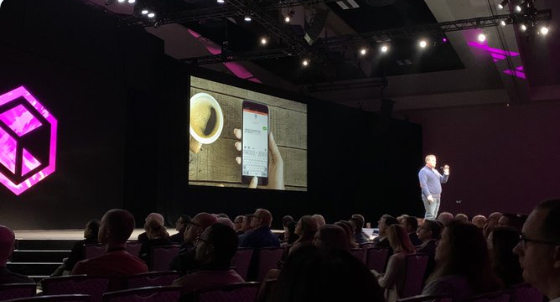 No Wi-Fi, no power, but data available and accessible. With Commvault automation, disaster recovery could be started without human intervention other than that voice command.
Check out the details in the "Just Text Commvault" blog.
2. Automation helps risk mitigation
Executives are much more interested in risk mitigation than ever before. Risk is a C-level and board-level issue.
In fact, an executive focus on risk and threat mitigation is evident at 69 percent of surveyed Commvault cloud customers.
Automated data protection is a significant part of risk mitigation.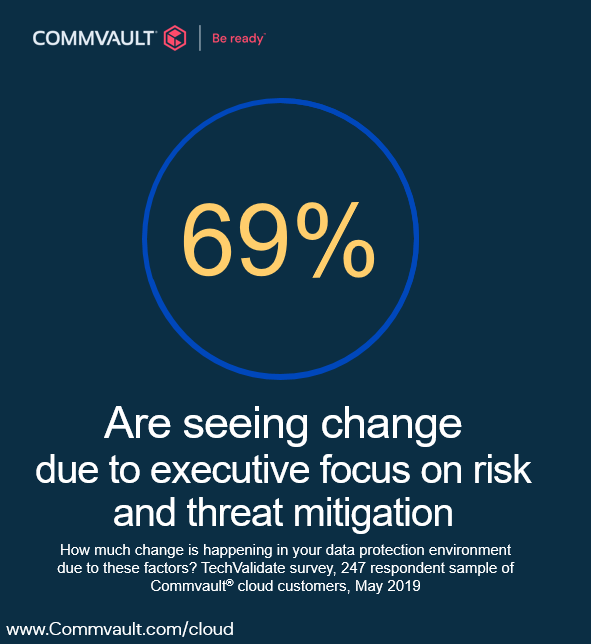 The State of Colorado shares a great example of automated data protection software helping with risk mitigation.
During the State of Colorado's ransomware attack, Commvault data protection software was one of the two tools that first identified the attack. Commvault software includes an automated control that sets off an alert if your data is having unusual activity. It was this control that alerted state officials to a ransomware attack that affected citizen services.
Learn the firsthand story below:
3. Automation helps with IT hiring challenges
It's a tough time to be hiring qualified IT leaders. There are so many open positions and not enough experienced staff. In October, The Wall Street Journal said, "In the past three months, U.S. employers had about 918,000 unfilled IT jobs," citing data from CompTIA.
Automation is helping to fill the IT hiring gap.
If you can automate processes, especially low-level processes, then you can focus your IT staff on strategic projects.
This can be as basic as cloud data migration. In the "Executive Cloud Survey, CITO Research and Commvault," survey, 68 percent of IT leaders recently said that data volume is a significant barrier to overcome.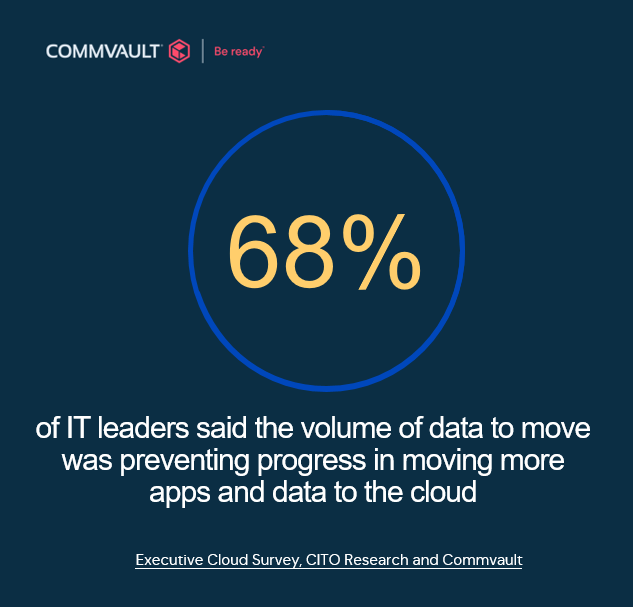 You have a specific timeline for your cloud projects. Do you want your staff to spend time on writing scripts or would you rather empower them to use a streamlined Commvault interface and secure APIs to securely and efficiently migrate data to your cloud vendor or vendors of choice?
The time savings is one thing, but it's also the job satisfaction.
No one likes repetitive processes like moving archive tapes around. If you can automate something as simple as data archiving – especially data archiving to the cloud – you save physical labor and avoid this kind of boring, repetitive work.
For the University of Central Florida, the choice was easy. It used Commvault and Azure Stack to migrate university archives to the cloud. In the story of its cloud data migration project, Brian Blum, Senior Systems Administrator at the University of Central Florida said, "Our staff was more productive due to the automated, hands-off process, which freed up their time for other projects."
Listen in on the automation discussion
What are your thoughts about the role of automation in today's IT environment? If you're not yet able to automate repetitive tasks, employ automation to mitigate risk, or speed cloud data migration, then it may be time to switch to Commvault.
Listen in to the new DM Radio podcast, "Automation: The Key to Success for the Modern Business." Share your thoughts on automation in your IT and business processes.
Learn more about Commvault :
Website | Twitter | LinkedIn | Facebook
This article was originally posted here:  https://www.commvault.com/3-ways-automation-helps-a-data-protection-strategy