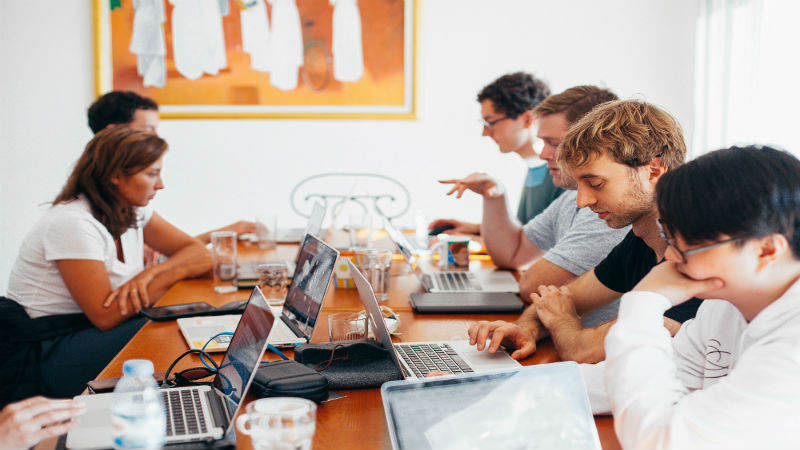 As a child, I dreaded the ubiquitous school class group project. Invariably someone in our group took charge, someone else did nothing, and perhaps one or two others and I did all the work for little or no recognition. Fast forward to today, and I now view group work in an entirely new light. It's not easy to ensure everyone has a voice and can contribute to truly collaborative group work, but when it happens, the effort pays off in impressive ways.
What are the benefits of employee collaboration?
Collaboration sparks innovation when each person brings their own experiences, knowledge and skills to the table. Legend has it that Microsoft introduced the idea of using a mouse to click on-screen objects to tell it what to do.  Xerox first adopted this functionality in their Alto computers, and many believe that this is where Steve Jobs first saw it, inspiring the graphical user interface of the Apple Macintosh.  Although this isn't an example of people working in a team, it does demonstrate what can happen when people share and build off each other's ideas.  Imagine the possibilities of employees learning from each other and generating new ideas.
Some of the other benefits of collaboration on an organization are:
Organizational flexibility – working together makes it easier to pivot when strategies and priorities change
Employees are engaged – when collaboration works, workers get excited to take on new projects and embrace change
Attract top talent – candidates want to work with people they respect and can learn from
Higher employee retention rates – employees are happier and more fulfilled
Different departments and different offices and skills can be brought together to make a project more successful.
Increased profitability – because of all of the above the bottom line will grow and propel the business forward
Not surprisingly, technology is now helping to make workplace collaboration easier than ever. This trend is reflected in the growth of the collaboration market from $30.40 billion in 2017 to an estimated $59.86 billion by 2023. Part of the reason for such a tremendous increase is that ever-changing landscape of the workforce. Everything from the rise of the remote worker to the new flexibility around work schedules is playing a part in why collaboration is now a daily part of an employee's day.
Studies also demonstrate that utilizing innovative process and networking tools can improve productivity by 20 to 30%. I experienced this first hand recently when our team moved to a new intranet and shared, over our work social networking site, the necessary tips and tricks to make the transition as smooth and efficient as possible.
Furthermore, working collaboratively fosters employee engagement. Engaged workers feel more connected to their company, leading to a 21% increase in productivity, heightened passion for their job and a more positive attitude during coworker interactions. Working in a team can spark innovation because each person brings their own experiences, knowledge and skills to the table, allowing opportunities for ideas to grow and expand as you listen to each other's opinions.
Additionally, collaboration can help organizations increase business velocity – bringing products to market faster by speeding up the process to make it easier to produce anything.  Sometimes this means putting people into a team who do not traditionally work together. Often this mashup can result in problems, so YEC Next collaborated and put together a list of how to successfully bring to the same table any team members who don't usually work together.
Inspire innovation by hosting "Team Innovations" sessions
Keep individuals organized
Ask them to tell their story
Implement effective task management
Encourage open communication
Align their interests
Recognizing the power of collaboration, SumTotal helps today's organizations foster collaboration with strong social elements like blog posts and communities that can share discussions, files and best practices. Ultimately, connections and collaboration keep your workforce performing at a higher level, supports retention and learning throughout the employee lifecycle—desirable outcomes for businesses of any size or maturity.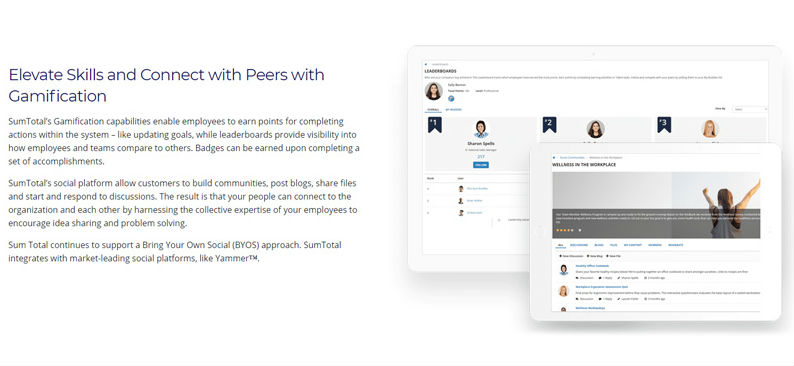 For example, SumTotal's social platform – shown here – is one of the features of the SumTotal Performance Management solution. Managers can create communities to share blogs, files and start discussions amongst teams. SumTotal's social platform also integrates with other third-party platforms like Yammer to encourage idea sharing and problem-solving.
Learn more about SumTotal:
Website | Twitter | LinkedIn | Facebook 
This article was originally posted here: https://www.sumtotalsystems.com/blog/2019/03/how-collaboration-engages-employees-and-drive-productivity/